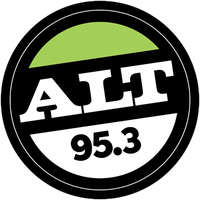 ALT 95.3 Raleigh's Alternative
Everyone in the Triangle loves Alt 95.3 – Raleigh's New Rock Alternative! Over 140,000 people tune to Alt 95.3 each week to experience a brand that mirrors lifestyles of Wake County: educated, tech savvy and engaged. Personalities include the Woody Show in morning drive, Wendy Rollins in mid-days and Klinger in afternoon drive. Core artists include Mumford and Sons, Fitz and the Tantrums, Pearl Jam, Stone Temple Pilots, Silversun Pickups, Foo Fighters, The Black Keys, The Cranberries, Florence and the Machine and Imagine Dragons.
The media age of a Alt 95.3 listener is 30, prime spending years with over 40% of the audience earning an income of $75,000+. When you consider a region surrounded by three major universities, which Forbes Magazine listed as the top city for Business and Careers in 2014, it's no wonder Alt 95.3's alt rock format is a top choice.
Alt 95.3 is about the music, but the station remains connected with listeners through on-air and online contesting, on-site promotions, including The Big Shindig and 95x Block Party. Engage with Alt 95.3 listeners, and they will grow your business.
Call Letters: WDCG
Format: ROCKALTERNATIVE
Dial Position : 105.1 HD2
Brand: ALT 95.3
Target Listener: Adults 18-34